My Favorite Celeb Style Of The Week:
Dawn Richard, formally of Danity Kane, looking flawless for fashion weeK!!Love It!!
Teeny Freak Of The WeeK:
Spectacular of Pretty RickyLawd..Lawd he plays all day!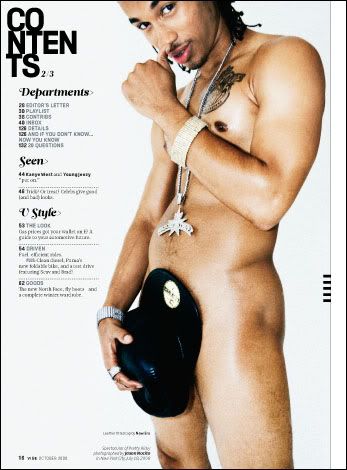 If this pic fascinates you in any way..go cop the next issue of VIBE Magazine!As for me....
NEXT!!!
The Leak:
This week several Hot Tracks have been leaked from T.I.'s, J-Huds, and Letoya Lucketts upcoming projects.
Dead & Gone by T.I. featuring Justin Timberlake
I'm His Only Woman by Jennifer Hudson featuring Fantasia Barrino
Somebody Else by Letoya Luckett featuring Avant
All available on zshare.net!
The ISH!!
On Friday, September 12th, 2008, stories flooded the news wave that the mother of Rapper T.I.'s eldest children was suing for palimony....Well By Tuesday TIP and his camp had issued a statement to address thoses issues and allegations!!!Here's a snippet of T.I.'s statement:
"
A lot of deceiving information has been reported regarding my recent child support proceeding. It is unfortunate that the media has been used to manipulate the circumstances and distort the facts. Those that know me, all know that there is nothing more important to me than my children. I have always supported all of my children financially, emotionally, and spiritually. This has always been the case and I will continue to do so in the future as this is my responsibility as a parent.
To clarify the recent reports, in addition to the $2000 per month I pay in cash to Lashon Dixon, the mother of my sons Domani and Messiah, I also pay for their private schooling, medical insurance, clothing, food, gifts, birthdays and extracurricular activities. Their extra-curricular activities have included football, basketball, baseball, acting lessons, summer camp, and any other activities that they express a desire to be involved in that will contribute to them leading balanced lives and developing into well rounded individuals. I have also made an attempt to help Lashon with additional payments that have included a down payment to purchase her home, purchase of an automobile for her transportation and other financial obligations. These expenses are documented and are far in excess of the $2000 cash payment that is being paid direct to Lashon. She has chosen not to work and to live 100% from her child support receipts. This is the reason for her difficulties in making ends meet for herself.
"
TIP is not playing that "use the media" ish w/ya'll!!****************************************************************************************
Diddy breaks up Danity Kane
Um huh!!! Ya'll Sean has those B*tch Fits and all hell breaks loose!
According to YBF:
"YBF sources who overheard the drama going down in the house dished to us about last night's meeting. Boss man was in rare form. The meeting ended up in a huge screaming match with Aubrey talking sly at the mouth (she does it often as I've witnessed that myself) about Dawn going solo. Dawn clapped back at Aubrey defending herself, and brought up the fact that Aubrey did her own thing on Broadway this summer. Puff intervened, Aubrey popped off at the mouth at him again, and he screamed "You know what? F*ck you, you're out the group." Then he turned to D. Woods and said "I heard you were unhappy too. You can get the f*ck out too." Damn! And it was all caught on video since the meeting went down while they were taping this season's finale show. I hear the footage could air on this season's finale episode or during next season's (yes, another one) "MTB" they're taping now as well. I couldn't make this ish up if I tried.
*************************************************************************************Jennifer Hudson is ENGAGED! <
That's right Idol fans--J-Hud is engaged to Punk of I Love New York! Congrats!!Hopefully He loves Jennifer now!LOL